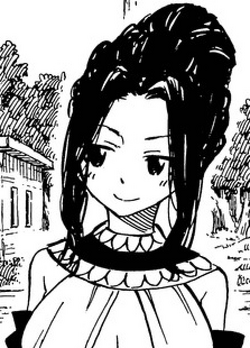 Natsu's Mother was the mother of Natsu Dragneel and Zeref Dragneel.
"."
—Natsu's Mother.
Appearance
Edit
Voice Actor: Not Known (English), Not Known (Japanese), Not Known (Italian), Not Known (Spanish), Not Known (German), Not Known (Finnish), Not Known (Korean), Not Known (French), Not Known (Latin American Spanish)
Biography
Edit
Appearance
Edit
The mother had a womanly figure to go along with dark (presumably black) hair tied in a bun with bangs coming down from each side of her face. Her attire consisted of tribal wear, opening in the middle to expose her chest area as well as dark sleeves to cover her arms. Her face resembles that of her older son Zeref.
Hair Color: Not Seen
Skin Color: Not Known
Eye Color: Not Seen
Age: Not Known
Height: Not Known
Weight: Not Known
Attributes:
Edit
Background
Edit
Personality
Edit
Relationships
Edit
Friends/Allies
Edit
Abilities and Powers
Edit
Abilities
Edit
Physical Abilities
Edit
Strength level
Edit
Fighting Style
Edit
Miscellaneous Skills
Edit
Weaknesses
Edit
Equipment
Edit
Transportation
Edit
400 years ago, in a small and quaint village, Natsu and Zeref were born by their mother and father, peacefully going about their lives. However, a Dragon raided their village, killing her, her husband, and greatly injured his youngest son Natsu, leading Zeref to eventually save the life of his younger brother as Half-Etherious.
Non-Canon
Edit
Non-Canon
Edit
External links
Edit
Notes & Trivia
Edit